By Lida Prypchan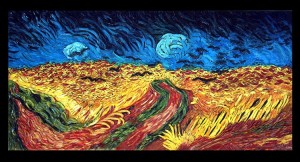 Years of sketching and studying the work of the artists that inspired him led to Vincent van Gogh's foray into oil painting. Yet his first oil works have less in common with the work van Gogh is most famous for and more in common with the somber colors, tones, and lines of the sketching habits he had embraced to date.
Vincent's life up until this time was a study in personal torment. Still, the year 1884 brought even more for him to bear. At the age of 31, Vincent was fragile, yet surprisingly resilient. Despite several failed romances – often directed at inappropriate love interests – an inability to settle into a career in which he felt recognized, and obvious personal and psychological issues, van Gogh turned his attentions to yet another woman with whom he entered into yet another failed romance.
Vincent's relationship with Margot Begemann began when Vincent lived with his parents in Nuenen. Margot was the daughter of Vincent's neighbor, and the both found each other's company of interest during Vincent's many long walks through the surrounding countryside. Despite the age difference – Margot was ten years older than Vincent – Margot fell in love with Vincent. Vincent is said to have returned her love, albeit not to the level as she. Interestingly, this may have been the first time that any woman actually fell in love with Vincent.
As the Spring of 1884 moved along to Summer, Vincent worked on paintings of the local townsfolk weaving, often in the evening, when the tones of his studies would be understandably more muted than they may have been during the daylight hours. However, this is not to say that Vincent did not enjoy the colors of the daytime. As he wrote to his brother, Theo, in early July 1884, that spring is "tender green" and "pink," winter reflected the black and white of snow against its surroundings, and autumn was the "contrast of the yellow leaves against violet tones." But, summer, ah summer was reserved by Vincent as "either impossible or ugly" to express. The only thing that made summer better, in Vincent's mind, was twilight. As Vincent noted, "it isn't easy to find the effect of a summer sun that's as lush and as simple and as pleasant to look at as the characteristic effects of the other seasons."
Unfortunately, and as was usual in Vincent's life, his parents did not approve of Vincent's pairing with Margot. This displeasure was not withheld from Margot, who became distraught of the thought of a life without Vincent. In a fit of what Vincent referred to as "definite mania," Margot overdosed on strychnine in an attempt to commit suicide in September of 1884. Vincent claimed in a letter to Theo that he saw something like this coming days before Margot poisoned herself.
Margot apparently often discussed a wish to die with Vincent. Vincent told Theo that Margot would muse, "I wish I could die now." But, one day, as they were walking, Margot became weak and collapsed. Margot admitted to having taken poison, and Vincent promised not to tell anyone as long as Margot stuck her finger down her throat until she vomited. Unfortunately, vomiting did not solve the problem, and Vincent eventually sought the doctor. Although the general story is that Margot took strychnine, Vincent mentioned to Theo that she may also have taken chloroform or laudanum.
Vincent hopefully predicted a full recovery for Margot after a period of what he described would likely be extended "nervous trouble." After all, according to Vincent, "a failed suicide is the best remedy for suicide in the future."
References
Department of European Paintings. Vincent van Gogh (1853–1890). In Heilbrunn Timeline of Art History. New York: The Metropolitan Museum of Art, 2000. Retrieved from http://www.metmuseum.org/toah/hd/gogh/hd_gogh.htm (originally published October 2004, last revised March 2010).
Oxford University Press (2009). Vincent van Gogh (Dutch, 1853–1890). Retrieved from http://www.moma.org/collection/browse_results.php?criteria=O%3AAD%3AE%3A2206&page_number=1&template_id=6&sort_order=1&section_id=T033021#skipToContent
Van Gogh: The Letters Van Gogh Museum. Retrieved 7 October 2009.
Vincent van Gogh. (2014). The Biography Channel website. Retrieved 01:44, Mar 25, 2014, from http://www.biography.com/people/vincent-van-gogh-9515695.