What is PP+A?
We are a network of people from all walks of life who are interested in the relatedness between psychiatry, philosophy, and the arts.
Psychiatry
Find a safe place here to talk about known psychiatric conditions and the resources that are out there to help.
Philosophy
Encouraging the discussion of philosophies including ancient and modern, Eastern and Western, and spirituality and religion.
Arts
Expression of the human condition through music, artworks, paintings, language, writing, and creativity as a whole.
Who is PP+A?
We are a small group with vast knowledge on the topics of psychiatry, philosophy, and the arts.  Also joining us are the many members of the community sharing their insight and experiences.
…on Psychiatry
An attending psychiatrist at the Wyoming Behavioral Institute in Casper, Wyoming, Dr. Prypchan specializes in Adult, Child and Adolescent Psychiatry. She has more than two decades of experience in psychiatry, beginning as early as adolescence when she conducted psychiatric patient interviews while assisting her father in his psychiatric practice in her homeland, Venezuela.
After obtaining her M.D. degree at the University of Carabobo in Venezuela, Dr. Prypchan moved to Pittsburgh, Penn., where she lived for six years. During this time she worked as a research associate with Matcheri Keshavan, M.D. in the field of schizophrenia, then with Duncan Clark, M.D. in the field of anxiety disorders in children and adolescents with substance abuse at Pittsburgh Adolescent Alcohol Research Center. She then joined Juan Mezzich, M.D. and worked on several World Psychiatric Association projects on Diagnostic Classification Systems in Psychiatry at the University of Pittsburgh's Western Psychiatric Institute and Clinic.
Dr. Prypchan trained in general psychiatry for three years at the Universidad Central de Venezuela and for four years at Elmhurst Hospital Center/Mount Sinai School of Medicine in New York City, where she was also a fellow for two years in Child & Adolescent Psychiatry.
Dr. Prypchan has written 150 published articles and is a three-time recipient of the National Award of Scientific Journalism in Valencia, Venezuela.
…on Philosophy
"My Buddhist practice and my Master and Disciple relationship with my father and other mentors have been paramount to my development as a human being and therefore as a psychiatrist," Dr. Prypchan notes. "I wouldn't have been able to overcome the challenges I met under the pressure of passing rigorous exams as a student who was older than most, if not all, of her U.S. medical school classmates if I hadn't begun to practice Buddhism," she asserts.
A member of Soka Gakkai International, she has studied the principles of Chinese philosophy for more than a decade, converted to Nichiren Daishonin Buddhism, and is working for world peace.
"When I began my practice in 1988, I felt as though I was a leaf spun around by the wind, but 20 years later, I feel more like a tree, robust and rooted in the ground of reality."
"Life is a search, seeking spirit, seeking conclusion. What we want is to find freedom and peace and to manifest our potential," she says. "How can this be accomplished? Through unification, not compartmentalization.
…on the Arts
"I very much enjoy the literary and visual arts. When I'm not practicing psychiatry, I spend a good deal of my time reading books (especially biographies) and seeing movies that explore a combination of psychiatric and philosophical themes."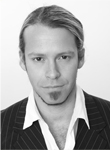 Daniel Aponte Prypchan is a performer, director, writer and men's self-expression coach.
At 28, Daniel's broad-based performance abilities have secured him leading roles in high-profile entertainment forums including the multi award-winning opera DEAD MAN WALKING, lead actor in CA-CHI-PUN, a third-prize winner of the World's largest Short film festival TROPFEST, as well as musical performances in RENT,THE MUSICAL & SWEENEY TODD.
Daniel has written, produced, performed in and directed a number of plays, films and musicals. He directed HIT AND RUN for the 2007 Short & Sweet Festival in Sydney; co-wrote, directed and performed in the multi-media Tango-Opera An/nA at the 2006 Festival; and wrote FRACTURED and the comedy TALKING TO KATE, which were both performed at the Newtown Theatre in Sydney, Australia.
Daniel also produced the entertainment segment for the 2006 Sokka Gakkai International Peace Conference in Sydney and was Master of Ceremonies for the Sydney Harbor Latin Fiesta in 2007.
He is currently working on producing the Save the Male Project, a project to transform the collective consciousness around the expression of masculinity today by coaching men to write plays about their experiences and produce the plays in high-profile forums.
Daniel's professional training includes two years of acting/directing with Lynette Sheldon and intensive classical opera voice training with Steve Ostrow (who discovered and trained Bette Midler, Peter Allen and Barry Manilow). Daniel is also a graduate of Screenwise Acting School with Denise Roberts. A trained dancer and Samba teacher, Daniel has performed in the Carnival in Rio de Janeiro and was recently profiled in the Internet-based comedy show Winston Fingers. Currently he is working with renowned director/acting coach Annie Swan and Australia's leading opera producer, Nicole Alexander. Daniel's performing abilities have recently won him the 3rd Prize for The City of Sydney Best World Song competition for his interpretation of "El Amor" by Jose Luis Perales.
…on Psychiatry
Self-expression being my number one passion, I am a committed and passionate proponent of the idea that artistic expression brings many benefits to people, especially those with mental illness. I believe that by expressing themselves through artistic outlets, they can be freed from any limitations their condition places on them. In addition, their artistic output, often of great quality, can transform all people's views on a situation, can strengthen our connection to our humanity, shedding light into our human experience.
Furthermore, I firmly believe that there is an intense relationship between psychiatric conditions, philosophical understanding and the artistic expression of the human experience.
…on Philosophy
Philosophy inspires us to greater goodness; philosophy teaches us about what we are and what we should aspire to be. It reflects the thoughts of our kind, humankind. In this I see that philosophical understanding is interrelated to psychological and psychiatric conditions, as they are expressions of the human experience and therefore philosophical in nature.
…on the Arts
In my training and experience as a singer, actor and director, I have become aware of how philosophical thought becomes obvious in the experience of the arts. The arts show us what human beings are about, the things that are important to us and reflect our sensitivities. In art we see how the human emotions are a collective experience that we are all capable of feeling and that goes beyond wars and resentment.
…on Psychiatry
Cristina Prypchan is currently completing a master's degree in counseling at the University of Wyoming, to be followed by a doctorate degree in family therapy. Prior to moving to the United States, she worked in Venezuela for 25 years as a psychiatrist in diverse settings, including emergency, geriatrics, substance abuse, and an acute psychotic unit.
As a psychiatrist, she managed medications more than she did psychotherapy. As a counselor, she will work more in psychotherapy and the psychological factors of mental illness. For her, family therapy is an important aspect of her future practice because she is convinced that many psychological problems are generated within the family.
She graduated as a Medical Doctor at Universidad de Carabobo in Venezuela in 1982. For two years, she worked as an intern in a Psychiatric Residency Training Program at Hospital Psiquiátrico de Bárbula in Venezuela. In 1984, she was admitted to the Universidad Central de Venezuela's Psychiatry Residency Training Program at Hospital Vargas. She completed a Course in Hospital Management for Physicians at the Institute of Advanced Studies in Administration (IESA) in 1986. In 1987, she received the degree of Specialist in Psychiatry.
Her first job was as an attending psychiatrist for AIDS patients and their families at OPLSIDA (Agency for the war against AIDS), a program sponsored by the World Health Organization. For two years, she worked wholeheartedly in the areas of prevention, diagnosis and treatment of Sexually Transmitted Diseases, including AIDS.
From 1993 to 1994, she worked as a Senior Research Associate at the University of Pittsburgh Medical Center Western Psychiatric Institute and Clinic and actively participated in four ICD-10 Field Trials sponsored by the World Psychiatric Association and World Health Organization under the supervision of Dr. Juan Mezzich as the Principal Investigator.
…on Philosophy
She has practiced the Buddhism of Nichiren Daishonin since 1989. This practice changed her outlook on life. Today, she is more optimistic and compassionate while fighting to realize her dreams. One of her dreams is to work in family therapy and to be useful and happy in United States.
…on the Arts
She enjoys literature and visual arts. She believes that writers and movie directors are the best psychiatrists because they explore people's inner worlds.