By Lida Prypchan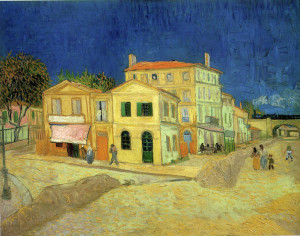 Vincent van Gogh's moods often fluctuated with the seasons. He was often chronically ill during the colder, winter months, no matter where he lived. Suffering from an ongoing cough (probably from a prolific liking for tobacco), general malaise (probably from a limited diet that kept him near starvation and definitely malnourished), and increasing evidence of uncontrolled mental illness, Vincent sought a change during the winter of 1887-1888.
With his newfound acceptance in the contemporary art community – even with his propensity for an argumentative bad temperament – Vincent's dreams of art were renewed. Friends that included Paul Gauguin, Henri de Toulouse-Lautrec, Emile Bernard, Camille Pissarro, and John Russell likely bolstered Vincent's confidence and inspired a renewed view of his own capabilities. So Vincent headed south away from Paris to Arles with the hopes of starting an artist's community and school.
Vincent's time in Paris had been more than productive. During the two years he spent there, Vincent produced over 200 works. Although some have indicated that Vincent's move to southern France was due, at least in part, to a desire to escape the busy pace of Paris, Vincent's pace in Arles was similarly manic – it is said that he produced 14 paintings of orchards in one month.
And, despite a desire to shake the general feeling of malaise that haunted him during the cold winters of the north, Vincent's destructive personal habits followed him to Arles. And, it seems, Arles was the place to foster those bad habits. According to artist, Christian Mourier-Petersen, one of Vincent's companions in Arles, the city was exotic, filthy, and full of brothels and drunks. One of Arles' residents at the time Vincent was there, Jeanne Calment, who was interviewed in 1995 at the age of 113, recalls Vincent as "dirty, badly dressed, disagreeable…, very ugly, ungracious, impolite, and sick."
On May 1, 1897, Vincent began planning a move to No. 2 Place Lamartine, known as the Yellow House. The Yellow House is not only where Vincent lived, it is also the subject of van Gogh's painting, The Yellow House. We can learn quite a bit about Vincent through this painting.
Vincent lived in the right wing of the Yellow House. The left wing was a grocery store. Vincent leased the entire right wing, using two rooms on the ground floor as a studio and kitchen, and two rooms of the upper floor as a bedroom and guestrooms. It was here, in the Yellow House, that Vincent hosted Paul Gauguin for more than two months that fall. Gauguin was housed in the upper right room, and Vincent's bedroom was the upper left room of the right wing of the house.
During the time he was in Arles, Vincent produced some of his best known works, including Bedroom in Arles; The Night Café; The Café Terrace on the Place Du Forum, Arles, at night; and Joseph Roulin (The Postman).
Vincent's use of color was impressive and his dream of having his work displayed in a local art gallery seem to indicate that Vincent's fame as well as his mood were on the rise. Yet, even during what seemed to be a bright spot in the artist's life, Vincent's fate was ever present.
Bibliography
Department of European Paintings. Vincent van Gogh (1853–1890). In Heilbrunn Timeline of Art History. New York: The Metropolitan Museum of Art, 2000. Retrieved from http://www.metmuseum.org/toah/hd/gogh/hd_gogh.htm (originally published October 2004, last revised March 2010).
Oxford University Press (2009). Vincent van Gogh (Dutch, 1853–1890). Retrieved from http://www.moma.org/collection/browse_results.php?criteria=O%3AAD%3AE%3A2206&page_number=1&template_id=6&sort_order=1&section_id=T033021#skipToContent
Van Gogh: The Letters Van Gogh Museum. Retrieved from http://www.vangoghletters.org/vg/
Vincent van Gogh. (2014). The Biography Channel website. Retrieved from http://www.biography.com/people/vincent-van-gogh-9515695.