By Lida Prypchan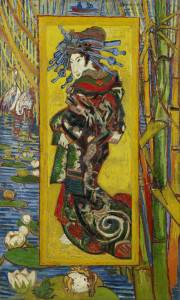 Living with his brother, Theo, in Paris beginning March 1886, Vincent van Gogh seemed to have a positive effect on Vincent's work. Perhaps this was because, in Paris, he was exposed to artists on a professional, rather than a student, level. Although Vincent still had little respect for art that he disagreed with, he did hold his relationships with certain artists of the time very dear.
Vincent began to explore color while he was in Paris. His affinity for the popular Japanese ukiyo-e woodblock prints indicates that he had begun to welcome styles other than his typical dark and somber work. Still, it appears that van Gogh's acceptance of differing styles was something that came at van Gogh's own pace. But perhaps this is the style of a great artist – growth and greatness must be something that evolves, not something that is taught.
Unfortunately, much of the information that is available about van Gogh's time in Paris is more biographical than personal. Because he lived with his brother, he had no need to write to Theo, causing a rather significant gap in the letters we now use to transcribe Vincent's life and his personal reflections on his own experiences.
We do know that Vincent van Gogh spent a great deal of time discussing art with his contemporaries. He also began adding to his collection of art, incorporating some of the newest works. On one trip to a local gallery, van Gogh studied the work of Adolphe Joseph Thomas Monticelli. Monticelli painted in a manner that was brighter and bolder than van Gogh himself, and Monticelli's work appealed to Vincent. Adding some of Monticelli's paintings to his personal collection, van Gogh expanded his foray into a new view of color.
Vincent counted some of the greats among his contemporaries – John Peter Russell, Emile Bernard, Louis Anquetin, and Henri de Toulouse-Lautrec all appeared to have influenced van Gogh during his stay in Paris. Certainly, these new friends of Vincent's painted in styles that were far different than his own – opening his mind to alternate ways to view his own work.
In late 1886, van Gogh moved to Asnieres, France. This move was precipitated by a string of disagreements with Theo. Vincent was very difficult to live with, and Theo found his brother's behavior more than a bit "unbearable." Given Vincent's reported melancholy mixed with overbearingness, it is not terribly surprising that Theo enjoyed his brother's presence more from afar than he did in his own home.
However, Vincent's acceptance into the art world – at least by his contemporaries – was only beginning. Vincent and Theo reconciled by the spring of 1887, and Vincent was exploring more greats – Claude Monet, Alfred Sisley, Edgar Degas, and Camille Pissaro. Soon to enter Vincent's life – Paul Gaugin.