By Lida Prypchan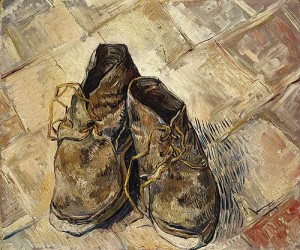 The years that Vincent spent England and France before he became an evangelist had an influence on him and the artist he was soon to become. The sensitive boy and the religious man meshed into an individual who felt every excruciating aspect of the social struggles around him. He was said to empathize with the plight of the poor in England and France and to cry every night during his time as a preacher in Borinage.
His exposure to art while working at his uncle's art dealership in London had awakened an interest in both the Old Dutch Masters, like Rembrandt and Rubens, and the work of such contemporary artists as Frank Holl, Hubert von Herkomer, and Luke Fildes. Vincent found himself drawn to the stark, black-and-white illustrations depicting British social issues. He also developed an interest in historic and naturalistic poetry and literature, immersing himself in Keats, Dickens, and Longfellow.
During those years, Vincent also preferred the less exciting areas of the cities in which he lived. In both London and Paris, Vincent avoided the tourist attractions, opting instead for long walks through the "seedier" areas of those cities. Vincent did do some sketching while in London and Paris, although those early drawings were said to be rudimentary at best.
Yet, the fall/winter of 1880, Vincent van Gogh was 27 years old, and he had yet to find a path in life that suited him. He had failed as a student, an art dealer, a teacher, and a preacher. It was at this time that Vincent was said to undergo another dark period. He even stopped corresponding with his brother, Theo, for a time – something that rarely happened since Theo was essentially Vincent's lifeline.
Vincent wandered to various villages after leaving Borinage, reading, preaching, and sketching as he went. At times, he ministered to area peasants and tended to the sick, all without pay. He lived as those to whom he preached. He wanted no worldly possessions and lived in a shack. But, Vincent's sermons became too difficult for his charges to understand; they were confusing and filled with fanaticism.
Vincent returned home to his parents. They had moved to Etten, in the southern Netherlands. Vincent's father was dismayed at his son's apathy. At one point, it is said that Vincent's father considered having Vincent committed to a lunatic asylum. His father even made at least one formal inquiry of the asylum at Geel, in the Belgian province of Antwerp.
It is believed that it was Theo who ultimately steered Vincent into a career as an artist. Having nothing better to do, after failing at everything he had tried thus far, Vincent believed that he could do God's work as an artist, telling Theo that great artists could lead people to God.
Set on his new path, Vincent left his parents' home in Etten and began to sketch more fervently, using his neighbors and the countryside as subjects. During the summer of 1881, Vincent found lodging with his cousin, Kee Vos Stricker, his mother's older sister's daughter. Kee had a young son, and she was seven years older than Vincent. Vincent fell in love with Kee and eventually proposed – a proposal that Kee vehemently rejected with the words, "No, nay, never." Vincent took his case to Kee's father, Johannes Stricker. Vincent declared his love for Kee, and put his hand in the flame of a candle to prove his love. Stricker is said to have been repulsed, saying "Your persistence is disgusting," and rejected Vincent as a suitor for his daughter based on Vincent's inability to support himself.
As a result of this rejection by both his cousin and his uncle, Vincent became disheartened with his religious beliefs and refused to attend Christmas services that year. He quarreled violently with his father and left for The Hague soon after.
References
Department of European Paintings. Vincent van Gogh (1853–1890). In Heilbrunn Timeline of Art History. New York: The Metropolitan Museum of Art, 2000. Retrieved from http://www.metmuseum.org/toah/hd/gogh/hd_gogh.htm (originally published October 2004, last revised March 2010).
Oxford University Press (2009). Vincent van Gogh (Dutch, 1853–1890). Retrieved from http://www.moma.org/collection/browse_results.php?criteria=O%3AAD%3AE%3A2206&page_number=1&template_id=6&sort_order=1&section_id=T033021#skipToContent
Van Gogh: The Letters Van Gogh Museum. Retrieved 7 October 2009.
Vincent van Gogh. (2014). The Biography Channel website. Retrieved 01:44, Mar 25, 2014, from http://www.biography.com/people/vincent-van-gogh-9515695.