By Lida Prypchan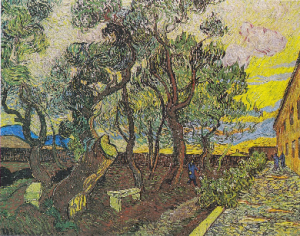 Despite being housed in a mental hospital for a year, Vincent appears to have never lost his ability and desire to produce art. Even during his time at the Saint-Paul asylum in Saint-Rémy-de-Provence, he turned out many of his most famous works. However, this period was not without its turmoil. It is said that the great works that Vincent produced during his time in Saint-Rémy, he suffered from manic episodes of creation and episodes of deep depression.
Vincent found that the hospital itself would serve as a subject for his work. He painted Vestibule of the Asylum and Saint-Remy (the courtyard of the hospital was named in Vincent's honor – Espace Van Gogh), as well as Olive Trees with the Alpilles in the Background, Cypresses, Cornfield with Cypresses, Country road in Provence by Night – portraits of the surrounding countryside. Additionally, during his time in Saint-Rémy, Vincent painted The Starry Night, perhaps his most recognized work. When he ran out of subjects to paint, he worked on his own renditions of others' work. Vincent's personalized rendition of Dore's, The Round of the Prisoners, is said to depict Vincent himself as one of the prisoners, although this assertion is under dispute.
It was as Vincent van Gogh's mental health was at its lowest point that his art career was on the rise. Vincent's brother, Theo, was always a supporter, but Vincent began to receive recognition from the art community as well. Among his most dedicated and ardent art community supporters were Oscar-Claude Monet, Paul Victor Jules Signac, and Henri de Toulouse-Lautrec.
In January, 1890, Vincent van Gogh was praised as "a genius" by art critic, Albert Aurier, who declared Vincent's work as original and intense. The following month, February, 1890, Vincent was one of 20 artists invited to participate in an art exhibition promoted by the exclusive art group, Les XX. However, at the opening of the exhibition, Les XX member, Henry de Groux, disparaged Vincent's work, causing Toulouse-Lautrec and Signac to cry out in protest. And in one of the greatest honors Vincent could hope for, Monet declared that Vincent's work was the best displayed at the exhibition – work that included Irises and The Starry Night.
That same month – January, 1890 – saw Vincent's first significant sale. His brother, Theo, an art dealer in Paris, sold Vincent's painting, The Red Vineyards, for 400 francs. Even Gauguin wrote to Vincent in praise of his work (although they never met personally again after the Vincent's December, 1889 breakdown, Vincent and Gauguin continued to correspond). Over the next 25 years, the recognition of van Gogh's work swelled until he was hailed as a true visionary and ensconced in art history forever.
However, Vincent's work was not to be continued for long. He died on February 22, 1890.
Bibliography
Department of European Paintings. Vincent van Gogh (1853–1890). In Heilbrunn Timeline of Art History. New York: The Metropolitan Museum of Art, 2000. Retrieved from http://www.metmuseum.org/toah/hd/gogh/hd_gogh.htm (originally published October 2004, last revised March 2010).
Oxford University Press (2009). Vincent van Gogh (Dutch, 1853–1890). Retrieved from http://www.moma.org/collection/browse_results.php?criteria=O%3AAD%3AE%3A2206&page_number=1&template_id=6&sort_order=1&section_id=T033021#skipToContent
Van Gogh: The Letters Van Gogh Museum. Retrieved from http://www.vangoghletters.org/vg/
Vincent van Gogh. (2014). The Biography Channel website. Retrieved from http://www.biography.com/people/vincent-van-gogh-9515695.