By Lida Prypchan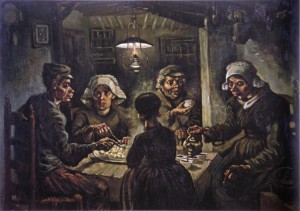 The spring of 1885 held both heartache and promise for Vincent van Gogh. On the evening of Thursday, March 26, 1885, Vincent's father, Dutch minister Theodorus van Gogh, died of a stroke. Vincent telegraphed his brother, Theo, at Theo's place of business in Paris with just five words: SUDDEN DEATH, COME, VAN GOGH.
It is said that Vincent grieved deeply for his father, and that after his father's burial on Monday, March 30, 1885, Vincent had some trouble getting back to work. Vincent's uncle noted that "Vincent behaves well enough, obviously rather withdrawn but bearable all the same, apart from that a tendency to cool reasoning."
In a letter to Theo in early April, 1885, it appears that both brothers shared stories of their difficulties with their father's death. Vincent wrote to Theo that "I felt as you did, in so far as when you write that the work didn't yet proceed as usual the very first few days, I had the same experience." Interestingly, in the same correspondence, Vincent noted that "Life isn't long for anyone, and the question is just — to do something with it." Vincent intended to do just that.
Throughout the months of March and April, 1885, Vincent worked on what was to become his first major work, his sketches of The Potato Eaters. As was his habit, Vincent shared his sketches with his brother, Theo, who had returned to his job in Paris after their father's death. Vincent, it is said, was not a fan of Vincent's work on The Potato Eaters. Vincent's ultimately desired that is work be marketed, and Theo did not believe that such a study of coarse and ugly peasants, eating potatoes at a dimly lit table, was what the art world was looking for.
Like many of Vincent's works, The Potato Eaters was actually a series of sketches and paintings. The culmination of these studies was an oil on canvas painting that took Vincent about three weeks to complete (with minor adjustments to be made later in the year). From April 13 to early May, 1885, Vincent labored over the painting that, in many regards, he considered his greatest work.
The subjects of the painting were the de Groot family. Like many of Vincent's favorite subjects, the de Groots were peasant farmers who honestly earned their food by tilling the earth with the very hands they used to eat what they grew. It seems that Vincent did not want the painting to be admired simply because it was good; he wanted people to understand the story behind the work, and he wanted people to acknowledge the life of the subjects that was very different from what he called "civilized people."
Vincent's brother, Theo, was not the only individual who was less than besotted with Vincent's initial oil offering. Vincent's friend, Anthon Gerard Alexander van Rappard, a painter and mentor to Vincent, criticized the work as "extremely weak." He also noted that Vincent's work displayed "faults that far outnumbered the qualities." Vincent's response to van Rappard's criticism was strong:
The work in question, painting the peasants, is such laborious work that the extremely weak would never even embark on it. And I have at least embarked on it and have laid certain foundations, which isn't exactly the easiest part of the job! And I've grasped some solid and useful things in drawing and in painting, more firmly than you think, my dear friend. But I keep on making what I can't do yet in order to learn to be able to do it.
References
Department of European Paintings. Vincent van Gogh (1853–1890). In Heilbrunn Timeline of Art History. New York: The Metropolitan Museum of Art, 2000. Retrieved from http://www.metmuseum.org/toah/hd/gogh/hd_gogh.htm (originally published October 2004, last revised March 2010).
Oxford University Press (2009). Vincent van Gogh (Dutch, 1853–1890). Retrieved from http://www.moma.org/collection/browse_results.php?criteria=O%3AAD%3AE%3A2206&page_number=1&template_id=6&sort_order=1&section_id=T033021#skipToContent
Van Gogh: The Letters Van Gogh Museum. Retrieved from http://www.vangoghletters.org/vg/
Vincent van Gogh. (2014). The Biography Channel website. Retrieved 01:44, Mar 25, 2014, from http://www.biography.com/people/vincent-van-gogh-9515695.