By Lida Prypchan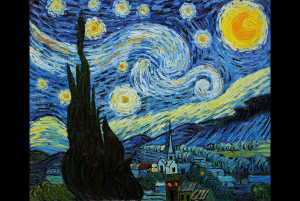 Born on March 30, 1853, in Groot-Zundert, Netherlands, Vincent Van Gogh lived the life of a tortured artist. Known for his use of color as symbolism as well as his rough painting style, Van Gogh's influence on 20th –century art virtually mirrored the influence of the modern medical exploration of the mind, psychology.
Born to Theodorus van Gogh, a minister, and Anna Cornelia Carbentus, a talented artist in her own right, Van Gogh's love of art was practically a birthright. (The young Vincent went to work in his uncle's, also named Vincent, art dealership in his mid-teens.) Vincent was the oldest of six children, which included two brothers, Theodorus and Cor, as well as three sisters, Elisabeth, Anna, and Willemina. He was closest to Theodorus ("Theo"), who's widow famously published the hundreds of letters Vincent wrote to Theo throughout the years.
Vincent's early life was overshadowed by a nervous and thoughtful personality. In his own words to Theo, "My youth was gloomy and cold and sterile." It is said that his employment at his Uncle Vincent's art gallery, Goupil & Cie, in The Hague was a response to his family's descent into poverty, but other sources indicate that this move was a natural one for the emerging artist.
After leaving his employment on the "outskirts" of the art world, Van Gogh delved full throttle into his own art. Although many people know his works by his thick brush strokes and colorful emotions, Van Gogh actually began his foray into art through drawing and watercolors (his mother's preferred medium). But still, his work didn't come easy to Vincent. He once belied what seemed the ease of his talent in a letter to his brother, Theo, by saying that drawing was similar to "working one's way through an invisible iron wall."
There is little doubt that Vincent Van Gogh was born with a great talent. But, in addition to being recognized for his work (although posthumously), Van Gogh is also infamous for his rather public struggle with mental health. In many ways, Van Gogh believed that art should imitate life, and his latter works certainly support this belief.
Supported both emotionally, and sometimes financially, by his confidant and younger brother, Theo, Vincent Van Gogh's descent into mental illness was in some ways as predictable as it was documented. This "kinship" with the tortured artist is displayed in graphic detail in the March, 2014 exhibition of 50 of his works in a Paris, France display entitled "The Man Driven to Suicide by Society."
Much as Van Gogh's life is documented via his self-portraits and expressive work, his death is documented as part of art and mental health history. It is well known that Van Gogh, in a fit of despair, cut off his own ear in the winter of 1888. However, it is less well known that this episode is the first real attack of "insanity" that the artist experienced. His suicide on July 29, 1890 brought to an end years, or some may say a lifetime, of internal torture.