By Lida Prypchan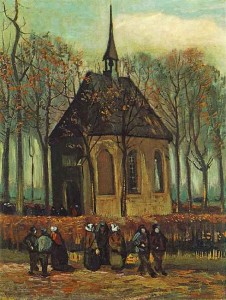 Although we know Vincent van Gogh as a prolific and talented artist, the work we are familiar with did not begin until the artist himself was 27. Sources agree that, as a boy, van Gogh did draw, which would make sense since his mother was considered artistic, but those early drawings were more copying than expressive – he displayed little actual artistic talent at an early age.
In fact, for many years, it was religion that appeared to hold the most interest for Vincent, not art. And, since the van Gogh's were known for two occupations – art and religion – it was expected that Vincent would find his path as a religious leader.
Yet, after leaving Willem II College in Tilburg in 1867, at the age of 15, Vincent was hired as a clerk at his uncle's art shop, Goupil & Cie., in The Hague. It was clear that Vincent was being trained in the trade of art, and would likely have become an art dealer like his uncles, had it not been for his first documented "breakdown." His uncle transferred Vincent to England, which may have increased his feelings of isolation.
It is said that Vincent, after being spurned by his English landlady's daughter, with whom he had fallen in love, became distraught and difficult to work with. He cared little about his appearance and reportedly became conflicted with the treatment of art as a commodity, something that clashed with his religious beliefs – these beliefs were reported to have become much more intense after his failed relationship.
Vincent was transferred to France, which put him close to his brother, Theo, but was eventually let go from his position at his uncle's art gallery in 1876. Vincent floundered for a few months. He worked in a bookstore and as a teacher until he decided to become a minister in 1877. Van Gogh travelled to Amsterdam and enrolled in a formal program at the School of Theology in Amsterdam. He would have been expected to enroll in Latin courses – a language that he claimed was "a dead language of poor people" – courses that Vincent believed where not necessary for the position of minister. In the summer of 1878, he moved to Brussels to enroll in a shortened program, which qualified him to become an evangelical missionary. Ultimately, an education in theology was not to be. Vincent left Brussels after three months to take a position as a lay minister.
Vincent was sent to minister to miners in the Borinage area of Belgium. He told his brother, Theo, that "someone in our family has always been a minister of the gospel… it is my prayer and innermost desire that the spirit of my father and grandfather may also res upon me." From the fall of 1878 until the winter of 1879, van Gogh remained in Borinage.
It seems however, that Vincent van Gogh was, unlike his father and grandfather, not well suited to religious instruction either. Although his flock referred to Vincent as the "Christ of the Coal Mines," Vincent's superiors were not at all pleased with is work. Vincent ministered to the sick and the very poor, but his lifestyle was one of martyrdom, which dismayed the overseeing evangelical committees. Vincent did not leave his religious post, he was forced out when church authorities elected not to renew his contract, citing Vincent's lack of dignity expected of priests.
References
Department of European Paintings. Vincent van Gogh (1853–1890). In Heilbrunn Timeline of Art History. New York: The Metropolitan Museum of Art, 2000. Retrieved from http://www.metmuseum.org/toah/hd/gogh/hd_gogh.htm (originally published October 2004, last revised March 2010).
Oxford University Press (2009). Vincent van Gogh (Dutch, 1853–1890). Retrieved from http://www.moma.org/collection/browse_results.php?criteria=O%3AAD%3AE%3A2206&page_number=1&template_id=6&sort_order=1&section_id=T033021#skipToContent
Van Gogh: The Letters Van Gogh Museum. Retrieved 7 October 2009.
Vincent van Gogh. (2014). The Biography Channel website. Retrieved 01:44, Mar 25, 2014, from http://www.biography.com/people/vincent-van-gogh-9515695.