By Lida Prypchan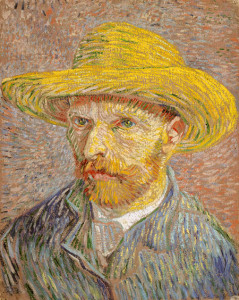 At 29 years old, in January of 1882, after a second spurred marriage proposal combined with his subsequent loss of faith, Vincent van Gogh moved to The Hague to pursue a career in art, as a peasant painter. He studied the works of Jean-François Millet, a French painter noted for his illustrations of peasant farmers, and other artists and copied them over and over to hone his skills. Vincent's early work mirrored Millet's style, with dark, somber colors illustrating the locals at work. At this time, Vincent's brother, Theo, began to send Vincent money to help support him.
Not one taken to formal education, even when it came to art, both because of his lack of interest in formal schooling and his inability to pay for it, Vincent sought out his cousin, Anton Mauve, Vincent's cousin by marriage, and a successful painter in his own right. Mauve believed that Vincent was talented and encouraged him to proceed with his work. Vincent was excited and wrote to his brother, Theo, that he had finally found his calling.
At this time, Vincent began a relationship with Clasina Maria "Sien" Hoornik, a pregnant laundress, occasional prostitute, and alcoholic, who had a young daughter. Vincent moved in with Sien and planned to marry her. Vincent's family was not pleased with the arrangement and begged Vincent to leave Sien. In light of his family's reaction to his relationship, Vincent believed that Sien was the reason that Mauve, Vincent's supporter, began to refuse contact with Vincent, although some historians believe that Vincent and Mauve had artistic differences that drove them apart.
Vincent used Sien and her children, her daughter and a son, Willem, born in July 1882, as subjects for his emerging artistic talent. Sien is the subject of van Gogh's Sorrow, drawn in 1882, while Sien was still pregnant. Although only two versions of Sorrow still exist, van Gogh is said to have produced a total of four versions of the drawing.
Like much of his work to date and after Sorrow, the drawing highlights van Gogh's painful internalization of the world around him. Sorrow is inscribed with the words, "Comment se fait-il qu'il y ait sur la terre une femme seule, délaissée?" which translates to How can there be on earth a woman alone, abandoned?, a quotation from contemporary social historian Jules Michelet's 1860 book, La Femme. Van Gogh believed that poverty was the cause of many of life's ills.
The year 1883 began with Sien drinking again and her return to prostitution. Her behavior caused Vincent a great deal of pain, and he eventually followed his family's wishes and left Sien in the fall of 1883 to pursue his work. Although it is debatable that Sien found her relationship with Vincent as anything more than a convenience, she reportedly told her son, Willem, that Vincent van Gogh was his father. History tells us that the timing of the child's birth relative to the time that van Gogh and Sien met, likely rules out Vincent's fathering the child.
References
Department of European Paintings. Vincent van Gogh (1853–1890). In Heilbrunn Timeline of Art History. New York: The Metropolitan Museum of Art, 2000. Retrieved from http://www.metmuseum.org/toah/hd/gogh/hd_gogh.htm (originally published October 2004, last revised March 2010).
Oxford University Press (2009). Vincent van Gogh (Dutch, 1853–1890). Retrieved from http://www.moma.org/collection/browse_results.php?criteria=O%3AAD%3AE%3A2206&page_number=1&template_id=6&sort_order=1&section_id=T033021#skipToContent
Van Gogh: The Letters. Van Gogh Museum. Retrieved 7 October 2009.
Vincent van Gogh. (2014). The Biography Channel website. Retrieved 01:44, Mar 25, 2014, from http://www.biography.com/people/vincent-van-gogh-9515695.